Auto-Bio-Graphy
Historiographic Perspectives on Ego Documents/Personal Testimonies in Literature and the Visual and Performative Arts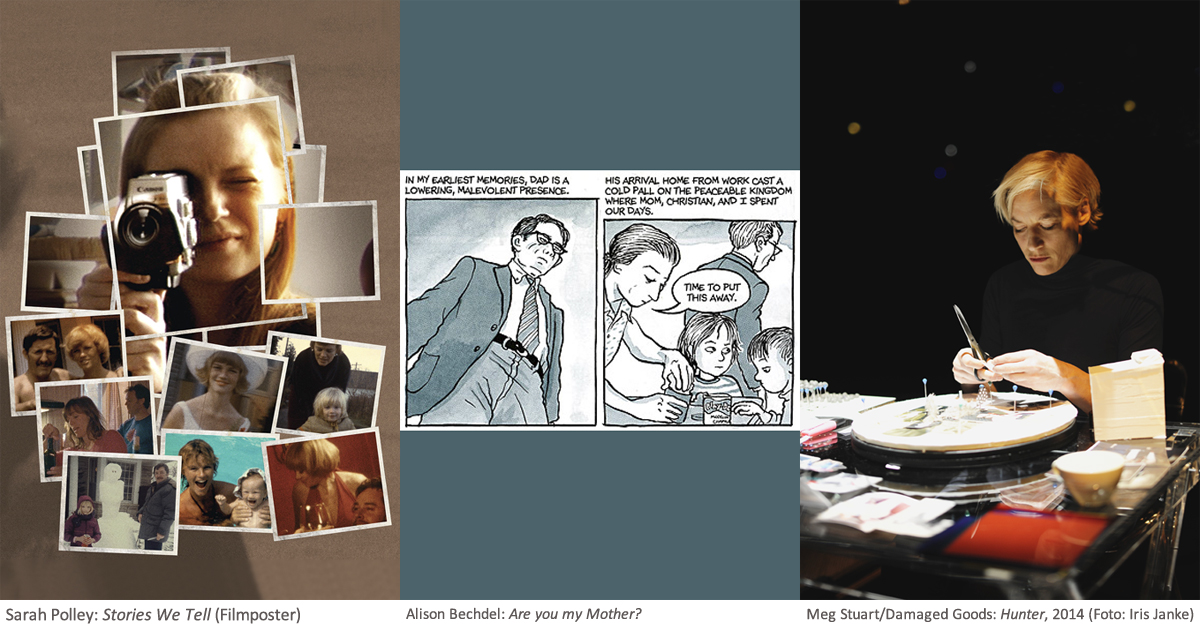 The research platform Auto-Bio-Graphy is an interdisciplinary field of innovation focusing on a range of autobiographical genres and medial formats: autobiographical and autofictional texts, graphic novels, choreographies, as well as (auto-)ethnographic films. The epistemological questions and scholarly methods which are central to the investigation of such genres and formats are also of interest. The guiding question is, how do subjects 'write' their 'own' 'lives' and how can these written, danced or filmed 'lives' be analyzed with the help of interdisciplinary and historio-/ethnographic means?
Since the end of the 1970s, there has been an ongoing interest in autobiographical texts and genres, primarily in history, literary and cultural studies. Their value as literary and historical sources has since been extensively discussed and problematized. The term 'autobiography' has likewise experienced several redefinitions. With regard to more recent forms of autobiography, the research platform pursues decidedly transdisciplinary epistemological interests along with corresponding – partly to be strengthened, partly yet to be developed – interdisciplinary perspectives. In particular, the performative aspects of autobio'graphies' are assigned new relevance within the context of the changing possibilities for production and distribution via different media.
The platform focuses on aspects of self-fashioning; on the implications of construction, mediality, performativity and gender; on oral history and on embodied knowledge or ageing. 'Writing' is therefore understood in a wider sense: the term includes forms of writing the self, individual or collective narrations (e.g. in front of a camera) as well as the dancing or performing of one's 'own life' on stage. Looking at these diverse forms of autobiography from historiographic and/or ethnographic perspectives also raises the question as to how 'writing one's life' can be approached through interdisciplinary scholarship. Taking such an approach seriously opens up new perspectives in relation to autobiographical objects and forms and furthermore allows for a reflection on and reformulation of the histories of the arts.
Responsible
Prof. Dr. Gabriele Rippl, Department of English
Prof. Dr. Michaela Schäuble, Department of Social Anthropology
Prof. Dr. Peter J. Schneemann, Institute of Art History
Prof. Dr. Christina Thurner, Department of Theater Studies
Prof. Dr. Bénédicte Vauthier, Instituto de Lengua y Literaturas Hispánicas
Coordination
Prof. Dr. Christina Thurner, Department of Theater Studies
Nadja Rothenburger (Student Assistant), Department of Theater Studies
Events
Workshop 1 (2018) together with the responsible researchers and interested M.A. students, PhD candidates and post-docs.
Interdisciplinary Lecture Series (2019)
Workshop Les "détours" du sujet
Auto_Bio_Graphy as Performance. A Field of Dance Historiographic Innovation
The SNF-funded project is hosted at the Institute of Theater Studies (ITW) at the University of Bern and examines ego documents/personal testimonies of dancers and choreographers (19th to 21st century) from a dance historiographical perspective. Autobiographies of dancers are unique sources of information that often provide alternative perspectives for dance historiography. In order to draw knowledge from these autobiographical sources, their specific status as sources must be further taken into account and reflected upon. More
Les "détours" du sujet
As part of the CUSO (Conférence Universitaire Suisse Occidentale) Doctoral Program, and in collaboration with the members of the interdisciplinary research platform Auto-Bio-Grafie (Walter Benjamin Kolleg, Universität Bern), Prof. Dr. Bénédicte Vauthier (Universität Bern) and Prof. Dr. Jérôme Meizoz (Université de Lausanne) organise a two day (post)doctoral training about Les "détours" du sujet (discours biographique), posture et subjectivation en lettres et sciences humaines.
Bern, 1-2 September 2020
Call for papers
Working languages: French, German, English
Website and application: CUSO
Auto_Bio_Graphy – Interdisciplinary Lecture Series fall term 2019
This interdisciplinary lectures series deals with auto-bio-graphical devices and phenomena in the arts. Starting from the assumption that the development of autobiographical dis-courses in society, literature, the visual arts, and sciences, and the (self-) empowerment through codified depictions/portrayals/images/presentations are inextricably entangled, the lecture will introduce various forms, methods and media of auto-bio-graphical performances. The lecture approaches the autobiographical 'object' in terms of various genres and (medial) formats with special consideration for the scientific and artistic methods that are deployed. This opens a field of discourse that understands auto_bio_graphy as self-fashioning, self-positioning and performative action while simultaneously including methods of narration that run the gamut from autoethnography to historiography.
Guest speakers: Prof. Dr. Gabriele Brandstetter (Berlin), Prof. Dr. Laura Marcus (Oxford), Dr. Jérôme Meizoz (Lausanne) und Dr. Shawn-Naphtali Sobers (Bristol)
Time: Tuesday 14:15-16:00
Location: Room 201, main building, Hochschulstrasse 4